BABY ROSEMARIE
THE CHILD WONDER
This article is from a website devoted to the Vitaphone Project
which is working to preserve soundtracks
from early talkies and Musical Shorts and pair them with their films.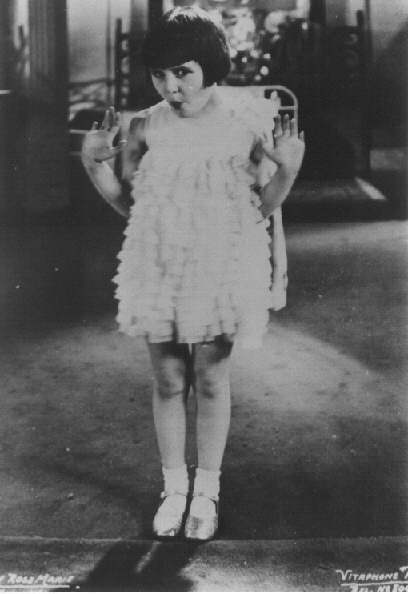 One of the most thrilling and gratifying developments in our Project has been talking to the talented Rose Marie who, in 1929, made a one-reel short as "Baby Rose Marie". Long thought to be lost, the separate film and disc elements have been located. Project member John Newton has been a long time Rose Marie fan, and held the disc for this short. He has since sent her a cassette of the rousing soundtrack. Rose Marie tells us she's been looking for this short for over 60 years, and had really given up hopes of ever seeing it again. The Project actively pursued options to get the film and disc synched up again and was finally successful. The still shown here is from Rose Marie's own scrapbook. She was too young to recall making this short, or two 1932 Vitaphone "Rambling 'Round Radio Row" one reelers. Her film recollections really begin with the frequently broadcast "International House" (Paramount, 1933), which features her atop a piano singing "My Bluebird's Singing The Blues"
The restored film and soundtrack of the Musical Short "The Child Wonder" is 9 minutes in length. The Academy of Motion Picture Arts and Sciences presented "The Child Wonder" along with 13 other restored Warner Bros. musical shorts, many of which were shot in Technicolor using the early Vitaphone sound-on-disc system. Musical shorts were produced to play as part of a theatrical package before the feature attraction, accoding to Academy officials. And the mini-movies, with an average running time of 10 or 20 minutes each, also served as a means for studios to test new talent in front of the cameras.
This particular short was shown prior to feature films, including the premiere of Al Jolson's The Jazz Singer.
Article/Interview from 1930 Home Life of Radio's Baby Star Average
Article from 1930 Radio Digest Baby Brings Home The Bacon