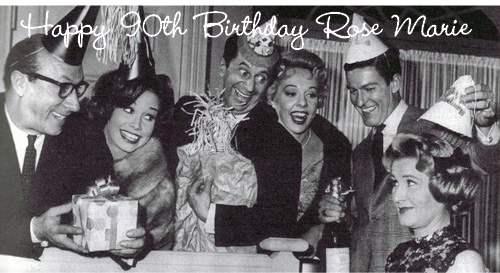 Below you will find links to articles, interviews and posts
related to Rose Marie joining the nonagenarian sorority!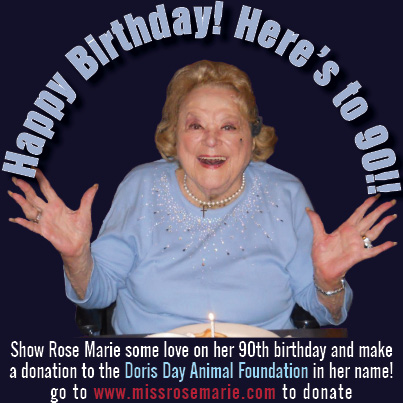 "Its been one very long performance and the dating prospects are not looking any better at 90," said Rose Marie. On August 15th, 2013, entertainment legend, Rose Marie, joined a remarkable sorority of fellow nonagenarian friends and colleagues including Carol Channing, Betty White, Angela Lansbury, and chose to celebrate by asking fans to help her TV co-star and dear friend, Doris Day, with donations to the "Doris Day Animal Foundation" "It is the finest organization that I know, taking care of God's finest creations - animals," remarked Rose Marie.

Of Rose Marie's birthday and her charity being selected, Doris said, "I am so thrilled to be celebrating my friend Rose Marie's 90th birthday. We had great fun working on the set of my television show. In fact, I've never had so much fun working, if you can call it that. We laughed all the time, sometimes much to the dismay of our director. But then, he would laugh too. It was then that I learned of Rose Marie's great love for animals. She is a real pal and I love her dearly. I couldn't be more pleased that her fans might want to honor her birthday by making donations to the DDAF. Please know your donations will be put to good use in Rose Marie's name."

---
Photos from her big day.
Celebrating with Dick Van Dyke and friends:
From Chad and Jeremy who played "The Redcoats" on an episode of The Dick Van Dyke Show created a special birthday greeting for Rose Marie:
Tinsletown Talks: Happy Birthday Rose Marie by Nick Thomas in Senior Times Magazine and Senior Voice
Peter Anthony Holder interviews Rose Marie for his "The Stuph File Program" - here's Rose Marie's portion of that program.
TV World.com runs a story about Rose Marie and asking for donations to Doris' foundation.
Highlight Hollywood on Rose Marie's 90th
National Enquirer: IS IT TRUE WHAT THEY'RE SAYING ABOUT DORIS DAY & ROSE MARIE?