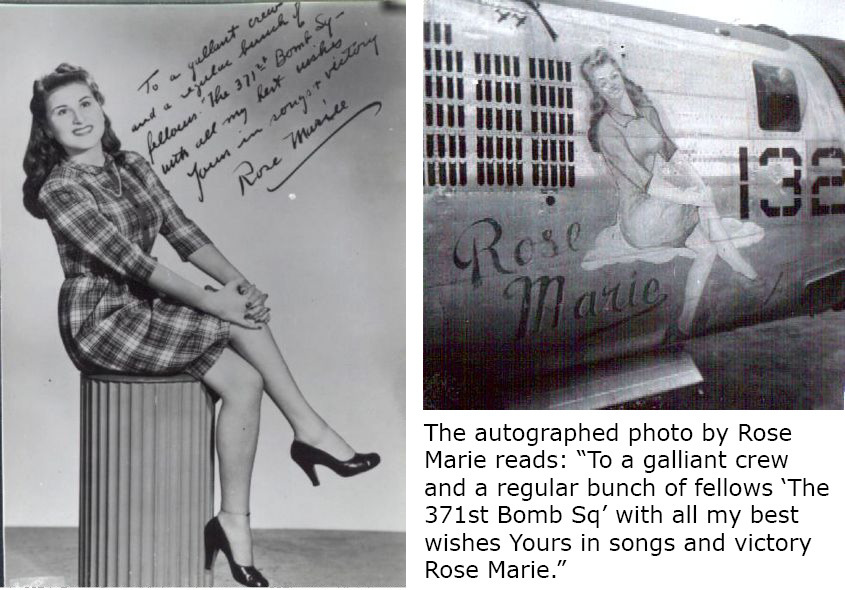 Following his discharge,
Corporal Zaccaria was able to meet
Rose Marie. Their meeting was documented in a
newspaper article seen below.
Rose Marie's Kiss Seals Romance
Sept. 1945 (Boston, MA)

Monte Proser, Rose Marie, Carmine M. Zaccaria
After meeting for first time yesterday.
Climaxing an overseas correspondence of more than two years, a former Army Air Force corporal and a blonde singing star of screen and stage, in whose honor a famed B-24 bomber was named, met yesterday for the first time.
The ex-corporal is Carmine Michael Zaccaria of Thorndike Street, Revere, discharged only last week from the Army after 24 months of combat action in the Pacific, and the singer is Rose Marie, one-time child star of the movies, who has a leading rome in "Spring in Brazil," the new musical comedy opening next Monday at the Shubert Theater. For almost three years, Carmine and Rose Marie wrote letters to each other, at least twice a week. Rose Marie sent the corporal some dozen photographs, and she was his No. 1 pinup girl. And it was through Carmine, attached to a ground crew of the 13th Air Force, that his pet bomber was named the "Rose Marie," with a life-size picture of the blonde singer painted on the fuselage.
Yesterday, in the Record-American office, these two ardent correspondents met face to face--and exchanged a warm and ardent kiss. "It's swell to meet you at least," said Rose Marie.
"And that goes here," Carmine answered enthusiastically.
HULA HULA SKIRT GIFT
Carmine had a present for Rose Marie. It was a white-fringed hula skirt, made of rayon from a parachute. He has a picture of the "Rose Marie" too-and this picture, for "good luck," Rose Marie will tuck into her costume when she makes her entrance in her first musical comedy role next Monday.
Carmine told Rose Marie all about the "Rose Marie." The ship survived 94 missions, and despite being twice shot down by enemy fire, is still functioning in the Pacific as a transport ship.
Rose Marie was accompanied to the Record-American office by Monte Proser, co-producer of the musical, who had interrupted rehearsals of the show to arrange the meeting between the two.
Carmine will be right up front at the theater next Monday night to bring "good luck" to Rose Marie.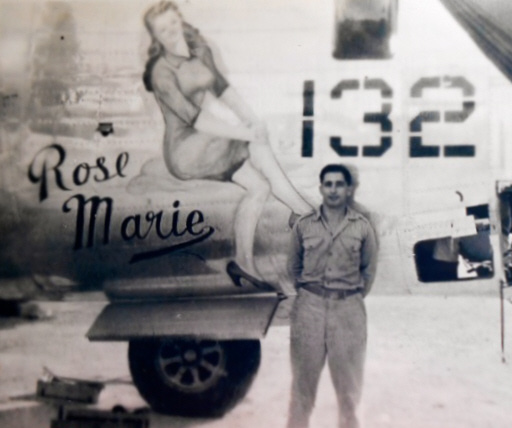 A very proud Corporal Carmine Zaccaria with his "Rose Marie"