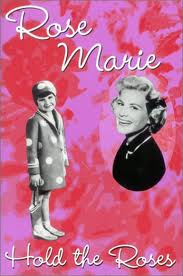 Rose Marie's autobiography HOLD THE ROSES
available from the
University Press of Kentucky
"I could hear the audience applauding
and screaming and someone yelling,
'Bring the kid back!' I threw the roses down and said,
'Hold the roses. I can't take my bow!'"
"Not only has Rose Marie written a most entertaining memoir, but she has given us a child's eye view and an adult's eye view of her work in radio, film, vaudeville and nightclubs."
—Carl Reiner
"Rose Marie found me in Cleveland, brought me to Hollywood, and introduced me to show business. I couldn't have had a nicer, kinder, funnier lady as a tour guide. She will always occupy a special place in my thoughts. I'll be at the bookstore waiting for the fun Hold the Roses will provide."
—Tim Conway
Most of us remember Rose Marie as the wisecracking Sally Rogers on The Dick Van Dyke Show, or recognize her from her perch in the top middle square on Hollywood Squares, but her career in show business has spanned almost seventy years.
At the tender age of three Rose Marie Mazzetta was entered in an amateur contest at New York City's Mecca Theatre. Her rendition of "What Can I Say Dear, After I Say I'm Sorry?" won, and her career was launched. She stayed "Baby Rose Marie" until she was well into her teens, singing in nightclubs, on vaudeville stages, on the radio, and in the movies.
It was a glamorous but difficult life—she worked side by side with legends such as Al Jolson, Milton Berle, and W.C. Fields, and was watched over by "Uncle" Al Capone and his associates—but her father managed her career and personal life with an iron fist, gambling her earnings away and abusing her and any boy foolish enough to show an interest in the family meal ticket.
Rose Marie married trumpeter Bobby Guy in 1946 and continued as a singer and nightclub entertainer. She soon established a second career on the small screen, most prominently as Sally on the legendary Dick Van Dyke Show, a groundbreaking role for which she earned three Emmy nominations and which continues to gather new fans from reruns on TV Land. Her fourteen years on Hollywood Squares and recent guest spots on such hit shows as Murphy Brown and Caroline in the City have kept her in the spotlight.
With candor and humor, Rose Marie tells of her many years in the entertainment world. Her behind-the-scenes look at show business is replete with intimate stories of household names from Hollywood, Las Vegas, and Broadway.
---
Excerpt from HOLD THE ROSES by RoseMarie
Between the pages of this book you will find the story of a sixty-five-year career in show business. I started working as a child star on radio, performed on vaudeville, grew up to play the big night clubs and hotels, and graduated to working with all of the greats of show business—Jolson, Benny, Burns and Allen, Red Skelton, Phil Silvers, and Milton Berle, to name a few.
I was raised by a mother who was a naďve, Polish lady who believed everything she was told. My father was a tyrant who had another family and never married my mother. He gambled away all the money I made as a child, and my mother never knew a thing about it. He beat me because he was jealous of anybody I ever went out with. I eloped with a musician who tried, in every way, to prove to my parents that he was a good man and who went through hell because my father feared losing his meal ticket—me. My marriage of twenty years was the best thing that ever happened to me. We moved to California and a whole new life of respect, love, happiness, and security. We had a beautiful daughter.
I love and respect show business. We have been inseparable all of my life. Here I tell the intimate stories of my years in the business, the hardships and the good times and how they shaped my character and my career. I also tell about some of the so-called Big Stars who are angels to the public and anything but in real life. Most people don't know that I was helped by Mafia influences (Al Capone, Frank Costello, Bugsy Siegel, and Joe Adonis). I opened the Flamingo Hotel for Bugsy Siegel when I was 6 months pregnant and Vegas was still primarily a desert and the Flamingo was only the third hotel there.
During the lean years I struggled to keep my career going because if I didn't work, we didn't eat. Later I struggled to become an actress on TV and in the movies so I could stay home with my husband and daughter. I appeared on series and variety shows. I never stopped working. I refused to give up.
This book is not your usual Hollywood memoir. It is not about who I screwed but rather who screwed me!
---
REVIEW
Who knew Rose Marie led such an engaging life?
Reviewed by David Marshall James, Copyright The State, Posted on Sun, Jan. 26, 2003
HOLD THE ROSES by Rose Marie University Press of Kentucky, 284 pages, $25
Long before "The Dick Van Dyke Show," "The Doris Day Show" and "Hollywood Squares," Rose Marie was a household name.
"Baby Rose Marie," that is: star of a weekly NBC radio show in the early '30s, headliner in vaudeville and co-star with W.C. Fields in the 1933 movie "International House." She horsed around in Franklin Roosevelt's Oval Office, upstaged Al Jolson - much to his chagrin - at the debut of "The Jazz Singer" in 1927 and got a diamond ring from Al Capone.
For her 16th birthday, Glenn Miller's Orchestra performed while Tony Martin serenaded her then whirled her around the dance floor. She played all the big nightclubs across the country during the '40s, from Ciro's in Los Angeles to the Copacabana in New York, and was one of the first entertainers to take an act to Las Vegas. You'll be surprised by her anecdotes featuring Bugsy Siegel, as well as all "the boys" behind the scenes of her engagements at top venues.
For instance, at a club date in Miami during the '40s, she asked the mob boss for the name of a horse that couldn't lose, and got it. And you thought all that stuff was a bunch of malarkey?
Friends in high places aside, by her own account, Rose Marie has lived a clean life sans booze and umpteen lovers. She relates how Vincent Price - concerned that she wouldn't offer libations - showed up early for a dinner party with two cases of wine.
She married only once, to a trumpet player in Kay Kyser's band who went on to work with Bing Crosby and on "The Tonight Show." They had one daughter before his death during the production of "The Dick Van Dyke Show."
Although never the success in the movies that she has been on TV, Rose Marie has performed thousands of times in dozens of theatrical productions including "Top Banana" with Phil Silvers and "4 Girls 4" with Rosemary Clooney, Helen O'Connell and Margaret Whiting.
With a veritable lifetime of show business credits, the author - who'll turn 80 in August - has packed the pages of her memoir with unforgettable vignettes sating back to the Roaring Twenties. It would make a great show.
Nice work, Rose Marie. Take a bow.
David Marshall James is a Columbia writer.