Interview with Radio, Television and Stage Legend RoseMarie
for the Rat-pack Rarities Newsletter Some Years Ago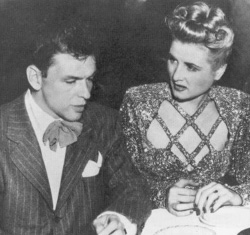 Born Augusts 15th 1923 in New York, probably most remembered as the wise cracking man hungry Sally Rogers on the Dick Van Dyke Show. But Rose Marie has a career that spans 8 decades. She started at the ripe old age of 3. Rose Marie's mother would take her to see stage shows on 14th street in New York City. After the shows Rose Marie would then reenact the shows for her mother and neighbors. Her mothers friends and neighbors suggested she enter a talent contest, they pooled there money and bought her a dress and shoes (which she still has) and she sang "What Can I Say Dear After I say I'm Sorry" "I had the voice then that I have now!" she exclaims. She won hands down.
Shortly after that on a trip to Atlantic City her parents took her to see a show at a small club staring Evelyn Nesbitt. As Evelyn was singing Rose Marie began to sing along with her. Evelyn brought her up on stage and people starting throwing money and cheering. Evelyn asked her "what's your name?" Her father said "Dainty Rose Marie" Evelyn replied "she's a baby, call her Baby Rose Marie" She performed at the "Steel Pier" for three or four months. During her stint in Atlantic City NBC got word of this phenomenal child. Upon their return to New York NBC signed her to a 7 year contract. She was now among some of radios most famous actors, Amos and Andy, Rudy Vallee and Leo Reisman. So at 5 years old Baby Rose Marie had a national radio program. At this time Vaudeville was nearly gone and NBC had an affiliation with RKO, so Baby Rose Marie toured the country performing at the RKO Theaters for a year. By the time she was 12 Rose Marie had begun singing at roadhouse clubs and started to hone her act and at 16 she was Headlining at some of New York's classiest night clubs, The Roxy, Copacabana, The Latin Quarter and several others.
They had move to New Jersey because of the child labor laws, in fact she recalls her father being arrested 108 times in Cleveland. "I'd do my set, they'd arrest my father, they'd let him out, I'd do my second show and they would arrest him again, that went on for two weeks" she remembers. In Albany she had to lip sync her own records to avoid her father being arrested again. As time went on Rose Marie became a staple in all the best clubs. During the second World War she devoted time to doing shows for the Armed Forces. As television became more and more popular it was only logical that Rose Marie would begin to conquer it as she had done radio and nightclubs. She started doing guest appearances on TV shows like the Perry Como Show. She met her husband in the Army, before the war he was a musician with Kay Kyser. After he got out of the Army they got married and moved to California. "He knew he would find work in California." she recalls. Although she was very well known up and down the East coast Rose Marie had some concerns about working in L.A.
"Danny Lewis asked me to play Slappsy Maxies at that time, the reviews were sensational, so then people knew I was alive"
In 1946 she then got an offer to help open a new club/casino in Las Vegas called "The Flamingo" with Jimmy Durante and Xavier Cugat. Anyone who has seen Rose Marie do an impression of Jimmy Durante might be interested to know that it was Jimmy who taught her how to do him.
Along with The Flamingo she played The Riviera and The Thunderbird. Rose Marie said "you know when you work for the mob you don't move around to much, they always kept me working and they treated me like a queen, I was there baby."
RPN: I saw you once in a video attending a show at the Sands during a Ratpack performance, what kind of an experience was that?
RM: As I often think about it, it was not an experience it was just something we did. Now it's an experience. Frank used to call and say "I got a benefit in Palm Springs I want you to do, the plane will pick you up" and I'd go. Never think twice.
RPN: I guess we look back at those times now with amazement because there just isn't talent like that now days.
RM: Oh please, don't get me started, now days what I forgoten half of what these people don't know. It's amazing to me that kids doing a tv show demand a million dollars an episode and get it! But I guarantee you you'll never remember them!
RPN: That brings me to my next question, how did you end up on the Dick Van Dyke Show?
RM: They called me because I was very close to Sheldon Leonard and Danny Thomas, I opened for Danny when he came in from Chicago. So we became very good friends. When he came out here my husband played his show and we were all very friendly. So I used to asked when am I going to do your show? You know Make room for Daddy. Sheldon would say oh don't worry, your time will come. But they would always come to see my show in Vegas. In fact Sheldon used to say to me "Don't you ever bomb?" And I would ansewer "I try not to." One day I got a call from Bruce Birch's casting office and she said they want you down at Desilu. I said "oh great the Danny Thomas Show" She said "no, it's for the Dick Van Dyke Show." I said "what's a Dick Van Dyke?" She said just go down and they'll explain. So I went and I met Carl (Reiner) and Sheldon Leanord. Sheldon said to Carl if you want the best get Rose Marie. I was the second one cast, I never even read for it.
RPN: Who was next?
RM: Well I asked who have you got for the third writer? Carl said we haven't cast it yet so I said what about Morey Amsterdam? He was a writer before he became a comic. He used to write for everybody, Milton Berle, Danny Price and Danny Thomas. He wrote my whole nightclub act for me. I came home and called Morey and said they're going to call you about a new show called The Dick Van Dyke and he said, "What's a Dick Van Dyke?" I said "I don't know but it's a show." Then Richard Deacon and then the kid. Then they couldn't find the right girl then Danny remembered Mary Tyler Moore from his show. She had auditioned as his daughter but Danny said with a nose like that no one would ever believe she was my daughter. So she got her part.
RPN: The show didn't do to well the first year, right?
RM: No, we were bucking Perry Como. But Sheldon went to NY and told the sponsors to keep the show on, he knew it would make it. They picked us up only because of Sheldon.
RPN: What's one of yor favorite shows on TV now?
RM:The Practice, it's the best show on the air. I also enjoy West Wing.
RPN: When did you do the Dean Martin show?
RM: It was during the Dick Van Dyke show and after.
RPN: So it was the first time people got to see you in color?
RM: Yeah, right. Well I did a lot of guest shots but yeah.
RPN: Where you surprised that Dean didn't show for rehearsals?
RM: You gotta know that I knew Dean before, I mean I knew Dean when he opened in Atlantic City with Jerry. So we were all kind of brothers under the skin so nothing really suprised any of us. But Dean was just wonderful to me. I had a problem during that time. My husband had died and he was my whole life. I felt like I couldn't sing or do anything any more. I was going to quit the Van Dyke show and John Rich our director came to my house and talked with me until 2 in the morning and convinced me to stay. So I did the last year of the Van Dyke show and during that time Greg Garrison, Dean's producer called me to do the show and I said I can't sing and he said yes you can. I told him No I can't. Yes you can, come on please for me. Now I thought he wanted me to do a comedy bit, he said no no I know you can do that I want you to sing a straight song. I said ok. Of all the songs they pick was "Little Girl Blue" So I went to the studio and I went in the booth and started to sing and it just didn't come out right and I said I can't do it, first time in my life I can't do it and ran out. I went to my dressing room. Nobody came in, nobody said anything. And finally about 20 or 30 minutes later I came out and Greg said, do you want to try it again? I said yeah, and I did one take and said that's as good as it gets. He said ok and the band applauded.
RPN: Your experience on the show was good then?
RM: Dean was wonderful to me on that show because he knew what I was going through, I was crying like an idiot during that song. He just looked at me like I'm here kid don't worry. It was just wonderful. In those days we were all friends. They all treated me as an equal. George Burns and Gracie Allen were my best friends and I was always treated like an equal.
RPN: Was Dean a drinker?
RM: No no it was his shtick. He wanted to be known like that, but he knew God Damn everything he was doing.
RPN: Is it true that Dean changed dramatically after his son died?
RM: Oh yeah, he was never the same after that.
RPN: What was your relationship like with Frank?
RM:: He was a pal, he would always call me and say I gotta a benefit here or there and I would go. I can't explain it. It was like me talking to you. We both respected each other and respected each others talent.
RPN: After the Dick Van Dyke Show ended then what?
RM: Well I did Hollywood Squares for 14 years and ran back and forth to Vegas. I played Tahoe and Reno.
RPN: Did you keep in touch with Frank, Dean and the other guy's?
RM: Well, we weren't in each others pockets but if one of us needed the other we were there.
RPN: Have you ever thought about writing a book?
RM: I did, it was called "Hold the Roses" Everyone said it was great, it was a page turner a history of showbiz but no one bought it. I think there wasn't much interset in BIOS's then.
RPN: Now that your show is on TV Land do you find a new generation of fans?
RM: I get over 200 letters a week. From 13 and 14 year olds. Parents who watch the show with their kids. My fan mail bill is huge!
RPN: What were some of your favorite Dick Van Dyke show?
RM: "That's My Boy" where Rob thinks they have the wrong baby, The one were Laura's old boyfriend turns out to be a priest and the episode when Riche was born,"Where did I Come From." When Mory dropped his pant's he cracked me up. We had to do three takes.
RPN: Do you think the show could have gone on longer and would you have done it?
RM: Oh sure, I would have, I think we could had done a whole year just on being in color.
RPN: After Hollywood Squares was over what then?
RM: Well I did a lot of theater and guest shots and don't forget I did the Doris Day show for three years.
RPN: Do you have any charities that you support?
RM: Oh yeah I belong to 8 different animal charity's "Actors and Others for Animal" "Peta" and several others
RPN: There is a movie coming out soon on Dean Martin life. Tom Hanks is the primary choice for Dean, do you think he would be good?
RM: I think Tom is good in anything he does. I think he has the right personality to play Dean. Knowing him He will get into it. I'll tell you something about Dean. You know he and Frank were very close and after a show or something Frank would want to go out and drink and stay up and carouse and Dean would always go home. He never fooled around he always went home.
RPN: Did you know Peter Lawford?
RM: Oh yes, I did some game shows with Peter, we did one called "You Don't Say" and it was one of the funniest shows we did. He was an odd ball though we was a square peg in a round hole but everybody loved him.
Rose Marie is still working hard today, she was just in a film with David spade called "Lost and Found" Working seems to be part of her. I don't think retirement is in her vocabulary. I found it amazing that to date she hasn't found a publisher for her autobiography. As she puts it "I guess it's not dirty enough" Her charicter Sally Rogers will go on for generations as a hard working career woman who was always treated equally by her co workers and her boss, always got the same pay and the was never looked at as anything less. All in 1961! I would say after spending the time with her I did that the character Sally is not far from the way she really is. She belongs in that class of women Mary Tyler Moore, Doris Day and Lucy that showed people and especially young girls that it was possible to be girl have a career and make it, with or without a husband and to expect the equality and respect that they deserve.