A grown up Baby Rose Marie has her life all squared away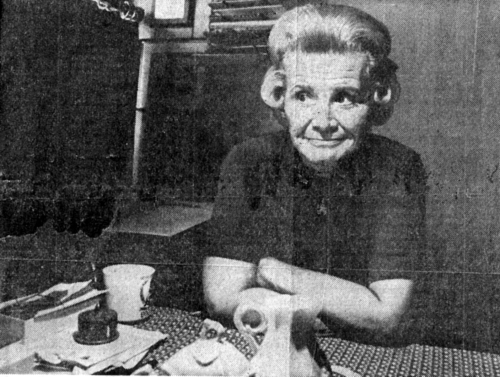 These are busy days for Van Nuys actress Rose Marie. She's putting the finishing touches on a new act, "4 Girls 4," which will open Sept. 6 at Doheny Plaza, Beverly Hills; she'll guest star on Hal Kanter's "Just for Laughs" and she's beginning her 11th season on "Hollywood Squares."
At the Doheny Plaza, she'll share the spotlight with her singing contemporaries: Rosemary Clooney, Margaret Whiting and Barbara McNair.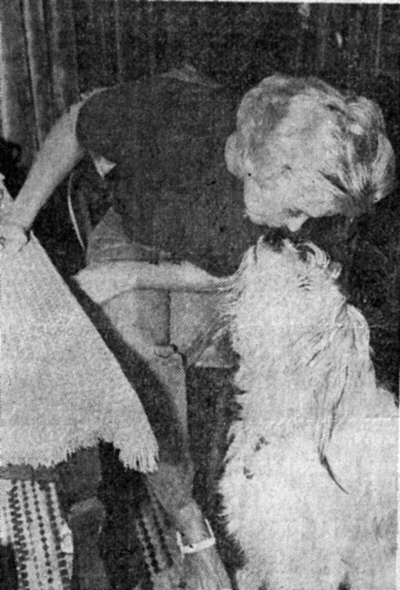 Rose Marie's Valley home is buzzin with activity. Sammy Cahn is calling long distance from New York, her manager has dropped by with contracts to be signed and her dog Scruffy is bounding about the house enjoying all the excitement.
She says she asked Cahn to write a parody of "I'm Glad I'm Not Young Anymore" for her opening number in "4 Girls 4." "Sammy is so busy that getting him to do anything is next to impossible. But he stopped everything to write new lyrics for me. He sang them to me on the phone and they're great," she says. "How lucky can I be? I open my act with lyrics by Sammy Cahn and close with Anthony Newley's."
The singer, the actress, the comedienne, the game show panelist is at her happiest.
And if there's any comfort in astrology, and Rose Marie is a firm believer, things are going to get even better. Everything in her future is in ascendency, her astrologist tells her. It's a good year for the entertainer, who is a double Leo. "Double Leos," Rose Marie explains, are people whose birth and time of birth are under the sing of Leo."
But actually good luck started for Rose Marie the day she sang "What Can I say After I say I'm Sorry?" in an amateur talent content in Atlantic City.
She not only won the contest, but was signed to an NBC radio contract. She was only 3 years old when she attained national fame as Baby Rose Marie. She also became a recording artist.
When the public doubted that the mature-husky voice on her records was that of a child, the record company was forced tos end Baby Rose Marie on a national personal appearnce tour.
"I was a has-been by the time I was 12," she laughs. But by the time she was 16, she was back in show business and singing in New York's plush Versailles Room. Then came Broadway musicals, including "Top Banana" with Phil Silvers.
Rose Marie says she knew three days after she met the late Bobby Guy, a trumpet player with Kay Kyser's Band, that she would marry him.
When Guy joined the NBC Orchestra, the couple moved to California and established a home on a quiet street in Van Nuys where Rose Marie has lived for the past 25 years.
It's only recently that she's felt in the mood to make any changes in the decor of the house she shared with her husband and their daughger Georgiana. Until now, everything has remained just as it was when Guy was alive. "For six months after he passed away, I couldn't bring myself to sleep in our bedroom," she says.
Georgiana, who now has her own apartment, is a producer with NBC Television. But she's still the apple of her mother's eye. "Georgiana owns five horses," Rose Marie says. "She's won more than 400 trophies as an equestrienne."
Georgiana was in an accident several years ago her mother says, and doctor told her she'd never ride another horse. After she was completely recovered she entered a show and won the top trophy. The next day, she took the trophy to the doctor's office and gave it to him for a present.
Rose Marie and Georgiana are very close, as are Rose Marie and her mother, Mrs. Stella Mazzetta. Rose Marie calls her mother, who lives in New Jersey, every day. "She watches all my television shows and she's my best critic."
Rose Marie's home is attractively decorated in an Early American theme. Two of her prized possessions are paintings by the late Cliff Arquette (televisions's Charlie Weaver), who was a Civil War buff.
She also prizes two antique tea canisters, the labels of which read, "Rose Marie Tea." They were given to her by actress Jackie Joseph.
One of Rose Marie's favorite hobbies is collecting china. And this she has done all over the world. She has six complete place settings for 12 and, eight place settings for eight. Complete sets of dishes for every holiday of the year including Christmas, Thanksgiving Valentine's Day round out the collection. She loves unusual cups and saucers and has them displayed throughout the house.
All this interest in table settings stems, no doubt, from the fact that Rose Marie is noted for being a good cook. On a recent production of Hollywood Squares, "one of the prizes awared to a contestant was "a home-cooked dinner for 12 by Rose Marie."
She entertains her friends often, she says. It's always a sit-down supper: There are always 12 guests and I do all the cooking.
Frequently joining her at these friendship dinners are Doris Day and Dick Van Dyke, on whose respective television shows she played continuing role. Another dinner "regular" is Peter Marshall, host of "Hollywood Squares."
Rose Marie's trademark is the tiny bow she wears in her hair. She's never without it.
No, it is not a reminder that she was once Baby Rose Marie. She wears it for a reason, she admits, but has never divulged what it is and she says she never will.
It's her secret and she plans to keep it.