Those four girls sang into womanhood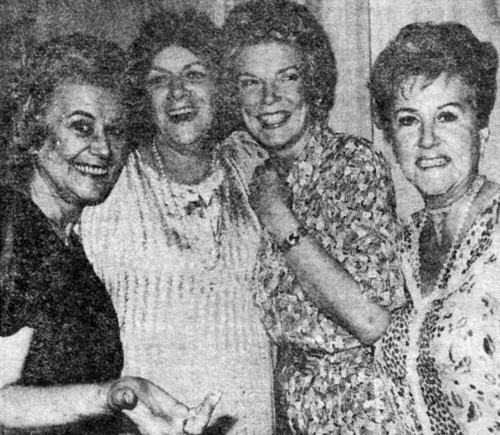 Don't be fooled. Four Girls Four is really Four Women Four. Rosemary Clooney, Rose Marie, Helen O'Connell and Margaret Whiting have been around since the 40s, which makes them, as Damon Runyon used to say, more than somewhat.
But maturity does wonders for some talents. Clooney and Whiting, for example, were always fine singers but their voices in recent years have taken on an authority and range that was not always so evident.
"We have mellowed as women, we have mellowed as singers," observes the articulate Whiting. We know a lot more than we did when we started."
Clooney hears a deeper shading in her voice than in yesteryear. "I think it's a richer type of thing. I still have the notes on top but there's a bottom I never had before. take "Tenderly." I sing it today in the same key I sang it in years ago but the top notes seem to have a depth they never had before."
Four women four. They were and are all stars in their own right -- O'Connell with Jimmy Dorsey at first and later TV hostess of "The Today Show" and the Miss Universe Contest; Rose Marie a singer-comedienne in pre-school days, then a five-year veteran of the "Dick Van Dyke Show" and a regular on "Hollywood Squares." Clooney came out of Tony Pastor's band to star in movies and TV. Whiting has successfully walked over almost every show business path there is.
Whiting seems a perpetual Pollyanna. As Clooney says in a mixture of admiration and mock exasperation: "She is up and cheerful all the time. Just one time I'd like her to say, 'I don't feel so hot this morning.' I'd like her to be just a little bit human like the rest of us."
Whiting appears to have no time for tears. She is an ebullient, take-charge talker. Just say "Hello Mag," and she's good for an hour. Henny Youngman couldn't shoehorn in a one-liner. She is full of memories and commentary, much of which is witty and persceptive. I have seen this round dynamo work an audience professional on stage and socially off. Though a woman of considerable sophistication, she can come on like Mrs. Dubuque and it works. Naturally, she's the opening shot of the act.
"Her voice sweeps through an auditorium of any size," swears Clooney. "Just sweeps it clean. Margaret has a New York musical comedy approach to everything. She comes in like an oveture."
Clooney should know. The four spent nine weeks on the road last year and will up it to 30 this year. That's plenty of time to get in someone else's hair but the four spin merrily along like the musketeers with an act that hums like a well-greased machine.
After Whiting has grabbed the audience, her partners do their own singles, Rose Marie serves up comedy with song. Clooney and O'Connell are all song. It's a melange of material -- Clooney's "Tenderly" and "Come On A My House" and O'Connell's "Tangerine" from the old days mixed with songs of more recent vintage. The four wrap it up with an ensemble finale.
They open at the Westbury Music Fair tonight and sing through Sunday in their first New York engagement. No, it won't be the exact same stuff they've sund all over the country.
"I guess we get bored with our material pretty fast," Clooney says. "We change it frequently to keep it fresh. Even if it's only putting in one new song a show."
So here they are. Fresh -- from Baltimore.