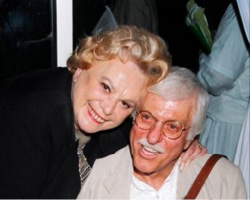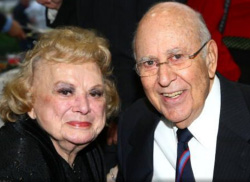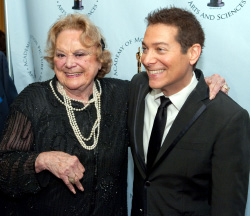 | Articles | Videos | Misc. | Recipes | Friends |
(allow the active x control to run to hear Rose Marie singing in the background)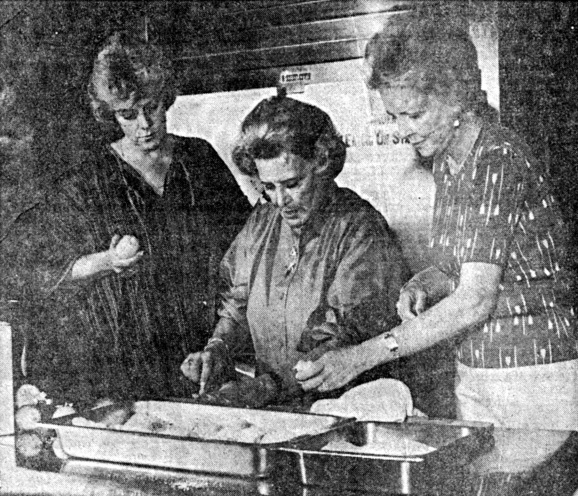 Rose Marie's Recipes:
Rose Marie's Dream Cake
1/2 cup Crisco
1/2 cup butter
1/2 cup brown sugar
2 cups flour
1/4 teaspoon salt
2 eggs
1 cup white sugar
1 cup walnuts, broken in pieces
1 can coconut
Cream butter and Crisco. Add brown sugar. Add flour and salt. Mix well.
Press dough into a jellyroll pan or shallow baking dish and bake in 325 degree over for 15 minutes.
While this is baking, beat the 2 eggs and 1 cup of white sugar in mixmaster. Folks in 1 cup of broken walnut pieces. Spread this mixture over entire top of cake and sprinkle top with 1 can of coconut.
Bake another 15 minutes 'till brown on top.
Allow to cool and cut into squares. Serves many!
"this was Lucille Ball's favorite dessert. Rose Marie always fixed it when Lucy and Desi came over for dinner"
Chicken a la Rose Marie
Eight chicken breasts
Garlic to taste
Progresso flavored breadcrumbs
Pinch of oregano
One-half cup water
One cup lemon juice
One teaspoon parsley flakes
Salt and pepper
One and one-half to two cups olive oil
Wash chicken, skin and fillet. Cover chicken thoroughly with Progresso flavored bread crumbs. Place pieces in baking dish. Chop garlic very fine and sprinkle over and around chicken. Sprinkle on salt, pepper and oregano. Mix water, lemon juice and parsley flakes together; pour one-half over chicken. Pour olive oil over chicken. Bake at 350 degrees F about one hour. Pour rest of lemon juice over chicken; bake one-half hour longer or until brown and done, and serve hot.
Rose Marie's Spaghetti Sauce
One pound of ground round
One-half pound of ground pork
One-half pound of ground veal
Three eggs
Salt and peper to taste
Three colves of garlic (chopped fine)
Three-fourths cup of Italian cheese (Romano)
Three-fourths cup flavored bread crumbs
Two tablespoons chopped parsley
About three-fourths cup water
Olive oil
Two cloves garlic
Three to four pieces medium size country spareribs
Eight to nine Italian sausage links
Three large cans Italian tomatoes (no puree)
Three cans Del Monte tomato sauce
Two large cans of water (use Italian tomato can for measure)
Salt and pepper to taste
One-fourth cup oregano
One-fourth cup chopped parsley
One-eight cup chopped sweet basil
Use ingredients in order listed.
Mix ground meats, eggs, salt and pepper to taste, three cloves of finely chopped garlic, Romano, bread crumbs and parsley in one bowl. Dampen with water, using enough to keep mixture fairly moist. mix with hands, but do not handle too much. Put aside.
Cover bottom of large sauce pan with olive oil. Chop the two cloves of gralic and brown. Remove garlic.
Brown spareribs and sausage until fairly well cooked; remove from saucepan.
Make meatballs with two full tablespoons of meat mixture for each. Brown in olive oil; remove from saucepan.
Put Italian tomatoes in blender and process until pureed. Put tomatoes in the saucepan containing the olive oil. Add the tomato sauce, the two cans of water, salt and pepper, oregano, parsley and sweet basil. Bring to boil; reduce heat to low. Put in the meatballs, sausage and spareribs which have been cooked. Let cook for three to four hours over low heat, stirring frequently. Keep tasting for salt and pepper need. If sauce gets too thick use water to thin it out.
Rose Marie's Lasagna
Lasagne noodles, cooked and drained
Your own sauce, however and whichever way you make it
Two pounds of Ricotta cheese
Four eggs
Three-fourths to one cup grated Romano cheese
Lawry's flavored garlic salt, to taste
Lawry's flavored pepper, to taste
Three colves of garlic pressed through garlic press
One and one-half tablespoons oregano
One and one-half tablespoons sweet basil
One and one-half tablespoons parsley
One good sized Mozarella cheese, shredded
Mix together the Ricotta cheese, eggs, Romano cheese, salt, pepper, garlic, oregano, sweet basil and parsley and refrigerate for one hour.
Spoon a layer of sauce on the bottom of a deep, square pan. Lay a layer of strips of lasagne one way along the pan. Dot three or more tablespoons of the Ricotta mixture along lasagne and spead evenly. Sprinkle some Romano cheese on top. Spoon over this sufficient sauce to cover well.
Then lay a layer of lasagna crosswise on top of sauce layer. Dot three or more tablespoons of the Ricotta mixture along lasagne and spread as before. Sprinkle with Romano cheese and spoon sauce over this as before.
Repeat these two steps, alternating direction of lasagna, until you reach top of pan. Top layer should finish with sauce. Sprinkle the Mozzarella cheese on top of final layer.
Bake one hour at 300 degrees Fahrenheit.
Friends:
You're listening to Rose Marie sing "Sans Souci"
from the "Top Banana" cast album